Tval PRO Hair Serum 50ml
Ultimate Detangling Mist Sprey 120ml 
Frizz-Free & Detangled Hair Experience
Use Everyday & Discover the secret to make your hair shine, 
frizz control. detangled and fresh all day long FOR BEST RESULT: 
TEP 01 /HAIR SERUM - High shine & frizz control
7 AMAZING BENEFITS
DAMAGE CONTROL

REDUCE DRYNESS

SHINE & FRIZZ CONTROL

HEAT PROTECTION

SILKINESS & LUSTER

EASIER BRUSHING & EXPERIENCE

INCREDIBLE DETANGLING
7 ESSENTIAL OILS
ARGON OIL

AVOCADO OIL

JOJOBA OIL

CHAMOMILE OIL

SEAWEED OIL

CALENDULA OIL

WHEAT GERM OIL
CAUTION
Apply it on half-end towel-dried hairs
Avoid applying directly on scalp & roots
-------------------------------------------------------------------------------------------------------------------- PRODUCT TABS --------------------------------------------------------------------------------------------------------------------
How It Works
STEP 1:

TVAL HAIR SHAMPOO

The Colour Protect formula with Argan oil shampoo gives an instant nourishment, cleanses the hair fibre with soft and silky surface. It nourishes the hair with Vitamin E, Omega 3 and Omega 9. It also filters to work on two levels:
-Hair feels smooth and silky to touch.
-Helps protect the hair fibre from heat and makes your colour's radiance prominent.

STEP 2:

TVAL HAIR CONDITIONER

ARGAN OIL NOURISHING CONDITIONER

This formula is infused with argan oil providing your hair a shiny, soft and smooth texture. The fibre is protected against the heat, dryness and any sort of damage. It protects the hair colour and also maintains it's radiance.

STEP 3:

TVAL HAIR MASK

Our formula is blended with HA and PhytOIL technology, the antioxidant property of pomegranate seed, grape seed oil and wheat germ oil which nourishes hair as well as repairs damaged parts to create silky and healthy hair. *HA is short for Hyaluronic Acid; PhytOIL technology is the technology to optimize different phyto oils for better properties of antioxidant and damage repair.
STEP 4:

Apply TVAL Pro high shine & frizz control hair serum evenly throughout towel dried hair. Avoid applying directly on roots.

LET THE HAIR DRY COMPLETELY BEFORE APPLY STEP 2

STEP 5:

TVAL PRO Ultimate Detangling Mist spray on completely dry hair and comb through gently with fingers. Avoid spraying directly on roots. Style as desired.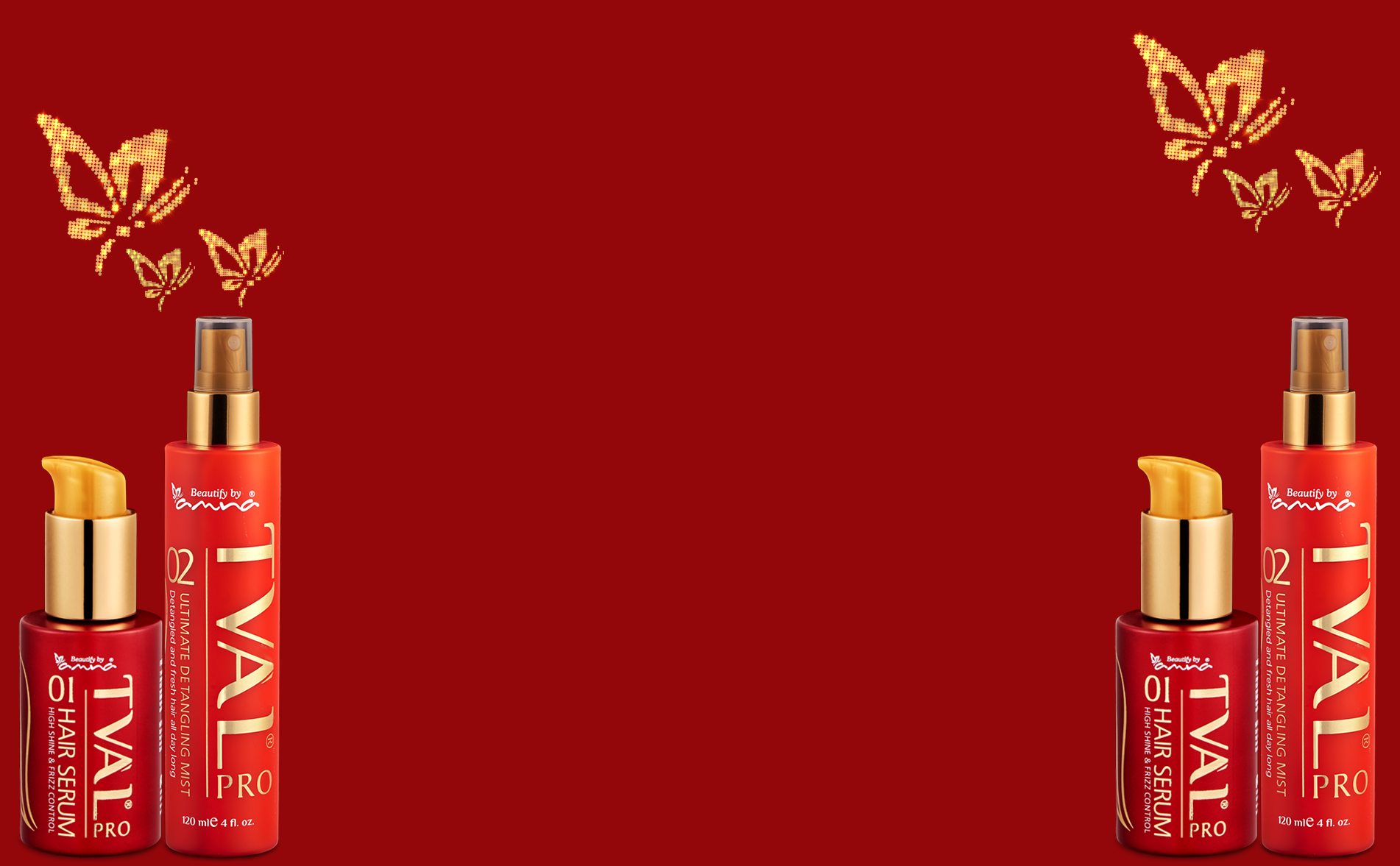 Complete Haircare Routine To Achieve Frizz Free Hair
Hair Care Routine
(For fr 177y Hair)
Caution:
Store in a cool place below 30°C
Shampoo
DI Water, Sodium Lauryl Ether Sulphate, Citric Acid, Coco amido propyl betaine, Methyl Paraben, Sodium Chloride, D-Panthenol, Sodium Benzoate, Propyl Glycol, Glycerin, Ceto Stearyl Alcohol, Jaguar, Coconut Diethanolamine, Ethylene Glycol Distearate, Poly Quart-2001, Perlizer, Silicone Emulsions Dimethiconol, Salinip, Abil-ME 45, Antil-171, Creatine, ARGANIA SPINOSA KERNEL OIL, Perfume.
HAIR MASK
WATER, GLYCERIN, CETEARYL ALCOHOL, HYDROXYPROPYL STARCH PHOSPHATE, CETEARTRIMONIUM CHLORIDE, BEHENTRIMONIUM CHLORIDE, AMODIMETHICONE, CETRIMONIUM CHLORIDE, TRIDECETH-12, CYCLOPENTASILOXANE, DIMETHICONE, PERFUME, TETRASODIUM EDTA, CITRIC ACID, METHYL-CHLOROISOTHIAZOLINONE, METHYLISOTHIAZOLINONE, CAMELLIA SINENSIS SEED EXTRACT, PUNICA GRANATUM EXTRACT, TRITICUM VULGARE (WHEAT) GERM EXTRACT, VITIS VINIFERA (GRAPE ) SEED OIL, ARGANIA SPINOSA KERNEL OIL
Nourishing Conditioner
DI WATER, CETO STEARYL ALCOHOL, CETYL ALCOHOL, EMULSIFYING WAX, TEGO COSMO C 100, ABIL-ME 45, PROPYL PARABEN, PHENOXY ETHANOL, ARGANIA SPINOSA KERNEL OIL & FRAGRANCE.
Hair Serum
Cyclomethicone, Dimethicone, Calendula Officinalis Flower Oil, Triticum Vulgare Germ Oil / Wheat Germ Oil, Simmondsia Chinensis Seed Oil / Jojoda Oil, Algal / Seaweed, Linalool, Ci47000, D&C Yellow No. 11), Limonene, Benzyl Alcohol, Avocado oil/persea Gratissima, Argania Spinosa Oil/argania Spinosa Kernel Oil & Fraggrannce